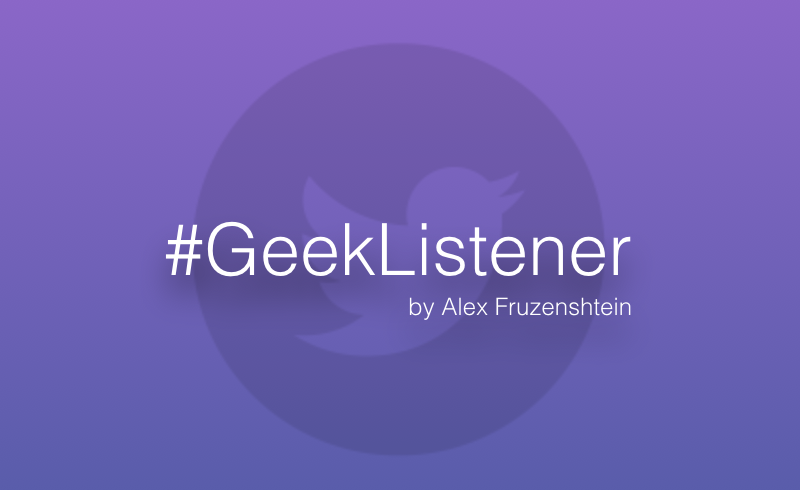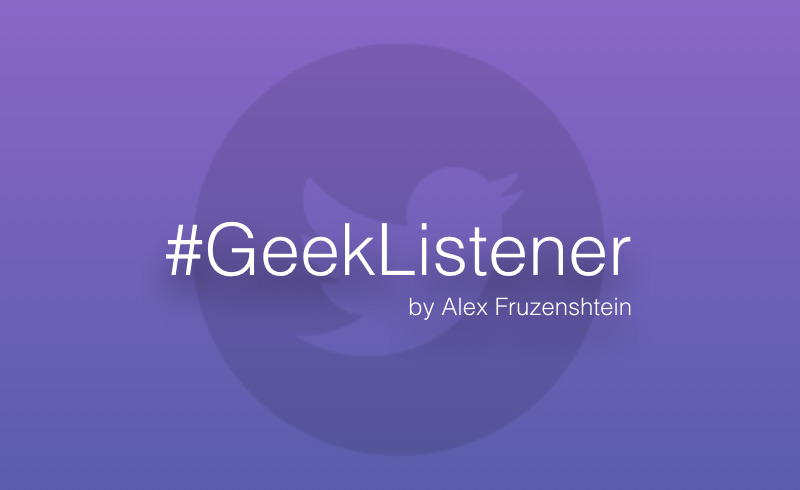 And it's #GeekListener again! New digest of developers tweets for the last week. I hope you are already used to it. Jokes, serious things, comics – all these are waiting for you, so let's stop wasting the time! Let's start!

Selfish microservices…
Microservices should never be talked about in absence of continuous delivery. This paradigm isn't just about container orchestration.

— Kenny Bastani (@kennybastani) January 13, 2016
Everybody talks about microservices. Microservices here, microservices there. But looks like you forget how microservices go into production… Right! With help of a continuous delivery. That's the same if you eat a perfect steak and don't think about a cook, who has fried it.
Hmmm… I never think about a cook…
Happy Birthday, Wiki!
"Wikipedia turns 15" I guess that's why it's always whining and asking for money…

— Ben Howdle (@benhowdle) January 15, 2016
I don't know how about teenagers who ask for money. But as for me, if we stop donate to it enough, it would become a bandit.
Joke for geeks only!
Hey software devs – as you move into the world of functional programming, make sure your opinions stay mutable.

— Brian P. Hogan (@bphogan) January 15, 2016
I'm already in the world of functional programming, so my opinion stay private and immutable.
Philosophy by Paul Phillips
Many languages give you enough rope to hang yourself, but Scala also built a gallows.

— Paul Phillips (@extempore2) January 15, 2016
What I can add to this? Well, Scala has its own guillotine and electric chair. The easier code you develop, the longer your distance to them.
f you like this digest, you can read the previous #GeekListener v.10!
Scrum-masters, shut up!
Please stop writing "As a User, I want to log in…" No user ever WANTS to log in.

— Bob Marshall (@flowchainsensei) January 16, 2016
I think this tweet belongs to "no comments" category.
When you don't know what to choose…
If you have two options, and one of them is Java Serialization, pick the other one.

— Will Sargent (@will_sargent) January 16, 2016
Will Sargent, each time when you say this, somewhere cries little Java Thread…
Shocking truth about OOP:
Hahahahahaha pic.twitter.com/prWLsQvJmb

— Straight$LinksWinkle (@philwinkle) January 16, 2016
I like this approach:
If plumbers were like software developers. "The water pressure upstairs in my house is too low." "Ah, what you really want is a bungalow."

— Matt Gemmell (@mattgemmell) January 17, 2016
Doesn't matter what you want, developers always have a suggestion for you.
Next time when you will write a shitty code, recall the comics below.
What idiot wrote this code!? https://t.co/BLQtvfr9hC pic.twitter.com/qu7daDLYfn

— CommitStrip (@CommitStrip) January 18, 2016
The way of Hello World Senior developer is pretty hard!
Sometimes I have to go try to write a non-hello-world business app to remind me of the stupid crap that enterprise developers tolerate

— Matt Stine (@mstine) January 19, 2016
Thanks to readers for reading, thanks to writers for writing!
Do you want to join the #GeekListener digest? Then retweet cool tweets with the hash code #GeekListener!
Comment, share and stay in touch!